by Hilary Kiely
It was in November, 98 years ago in 1923, that William Butler Yeats received the Nobel Prize for Literature. His writings include essays, plays, folk tales, and poetry. Yeats and his many siblings were active participants in the Celtic Revival of the late 19th and early 20th centuries. His sisters, Elizabeth and Lily, along with Evelyn Gleeson, were founding members of the Dun Emer Guild. The Guild promoted the creation of handcrafts including tapestries and rugs, embroidery, lace craft, and wood cuts, expressing, "A wish to find work for Irish hands in the making of beautiful things. . . with village girls as workers." His brother, Jack, found fame as a painter.
While many will think of "The Lake Isle of Innisfree" as an expression of Yeats' sense of place in Ireland, he did not just long for the quiet of the that island. He wrote of the countryside, the people, and the nation of Ireland in many ways.
The Stare's Nest by my Window, William Butler Yeats

The bees build in the crevices
Of loosening masonry, and there
The mother birds bring grubs and flies.
My wall is loosening; honey-bees,
Come build in the empty house of the stare.

We are closed in, and the key is turned
On our uncertainty; somewhere
A man is killed, or a house burned.
Yet no clear fact to be discerned:
Come build in the empty house of the stare.

A barricade of stone or of wood;
Some fourteen days of civil war:
Last night they trundled down the road
That dead young soldier in his blood:
Come build in the empty house of the stare.

We had fed the heart on fantasies,
The heart's grown brutal from the fare,
More substance in our enmities
Than in our love; O honey-bees,
Come build in the empty house of the stare.
Yeats wrote this as he looked from the window of the tower at Thoor Ballylee (pictured) which was a fortified tower built by the Anglo-Norman de Burgo family in the 15th century.  From there he could see a starling's nest, a beehive, and a road. He wrote this poem as a lament for the internecine strife of the Irish Civil War which followed the long fight for independence. This was about sense of place in its way, as well.
All of the Yeats' siblings used their art as ways of exploring and expressing Irishness, and a sense of connection to place and to ancestors. Whether through decorative elements recalling the art of the Book of Kells, through landscape imagery, or elements of myth and folklore, there are many ways through the arts of the Island of Saints and Scholars to connect to this place.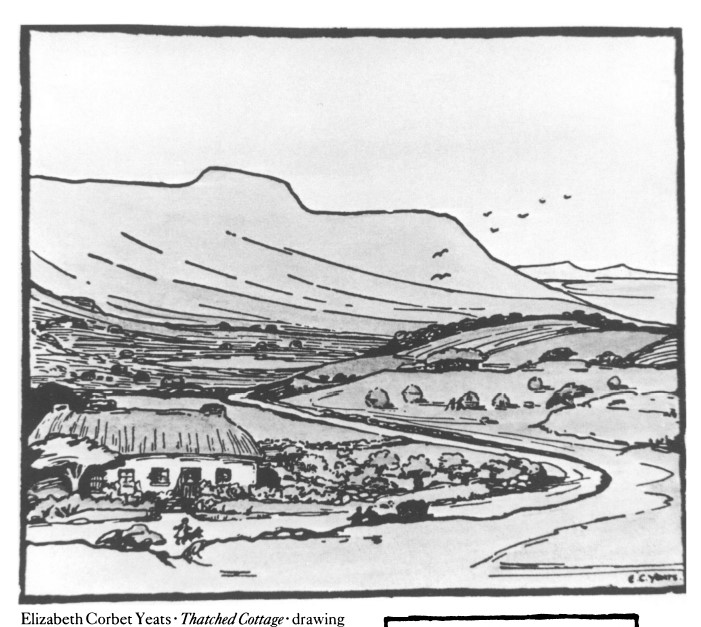 Thoor Ballylee, photograph Hilary Kiely, November 2018
Elizabeth Yeats drawing source: "A Gathering from the Dun Emer Press & the Cuala Press" by Lisa Unger Baskin in The Massachusetts Review , Autumn, 1987, Vol. 28, No. 3, pp. 525-548