by Hilary Kiely
The 21st of March is the Feast Day of Saint Enda of Aran.  Tradition calls him the father of Irish monasticism. While this accolade may not immediately speak to some people of his importance, the early Christian and medieval monasteries are the foundation of Ireland's reputation as the Island of Saints and Scholars. The monasteries in Ireland brought scholars from all over Europe and monks went from here to establish monasteries in Europe in turn, with a peerless reputation for learning and libraries. These places produced some of the incredible art that people still associate with Ireland today, such as the illuminations in volumes like the Book of Kells and the craftsmanship of such relics as the Derrynaflan Chalice.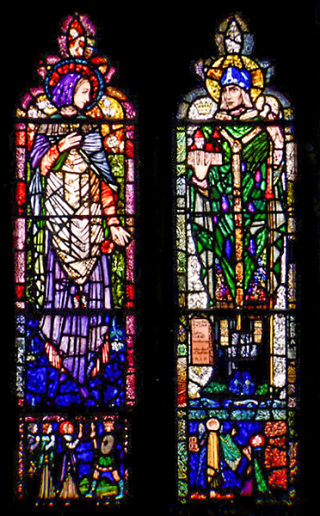 Enda's Conversion
Back to Enda himself. The son of Conall Derg of Oriel (Ergall) in Ulster, he took power when his father died, and his life was dedicated to keeping and expanding his territory and fighting his enemies. His sister, Fanchea, had other thoughts on his future. She, an abbess, tried to convince him to lay down his arms. Enda told her he was willing to be persuaded if he could choose a young woman from the convent to be his wife. Sadly, for Enda and his promised bride, she died before they could marry. Fanchea used this as a teaching moment, however, and made him look at the corpse of the girl, telling him, "Death and judgement await us all." Instead of returning to his warlike ways, he instead decided to pursue the priesthood instead
Enda's Monastery
After studying and becoming ordained in Scotland, he returned to Ireland, founding a church in Drogheda, Co Louth. In about 484 AD, he received a grant of lands from his brother-in-law, Aengus, a king in Munster. These lands were in the  Aran Islands. He established a monastery at what is now called Killeany from Cill Éinne, Enda's church or (monk's) cell on Inismór.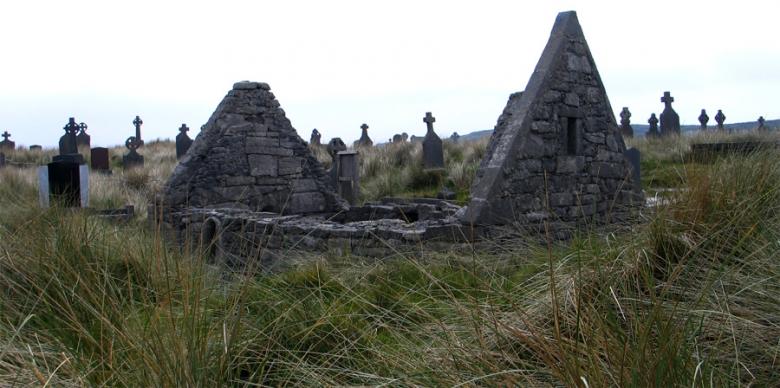 Enda also established a monastery in the Boyne valley, and several others across the island. More than the places he established himself, monks that came to take their orders with him in Inismór would go on to establish monasteries elsewhere, basing their rules on his. Two of the most significant at Saint Ciaran who founded Clonmacnoise, and Saint Finnian whose establishment at Moville (Mhaigh Bhile) hosted Columbanus (Saint Columba) who would then himself found the great monastery at Iona.
Pilgrims to Aran
Aran was a place of pilgrimage in Enda's time. When Columba visited he dubbed it "The Sun of the West". Saint Brendan the Navigator is said to have given a stone with a rune carved on it to the Abbey here on his return from his great voyage west. Saint Jarlath of Tuam and Finnian of Clonard are other famous visitors.
Enda's Continuing Legacy
Revolutionary and Proclamation signatory Patrick Pearse named his bilingual boys' school Scoil Éanna, or St Enda's School, in honour of the saint in 1908. The Peasre Museum is housed there today.  Ballyboden in Dublin has a Gaelic Athletic Association club named after as does Omagh. In 2011, members of the Omagh club paid tribute to their patron by visiting his church on the Aran Islands before 150 members of the club cycled from Galway to Omagh. A number of schools still operational today, including St. Endas College secondary school (Coláiste Éinde in Irish) in Galway are also named after him.
Tobar Eanna
There is a spot near to Silver Strand Beach in Bearna, Co Galway that legend has it was a favoured spot for Enda to rest when he travelled from the mainland to Aran. A well sprung up to provide him water as he stopped to pray here. It was believed that the water had beneficial effects for those suffering from eye and ear ailments.  Pilgrimages took place to the well. Traditionally, the last Sunday in July was the biggest pilgrimage to the well and it was apparently custom back then for pilgrims to throw pennies in the water, some of which you can see in the photo below.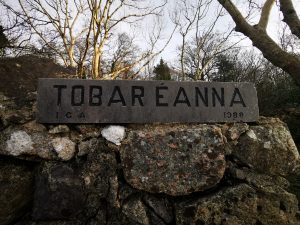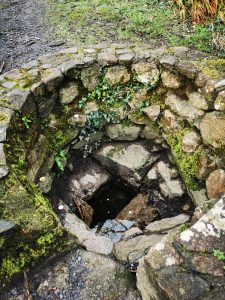 If there is a Killeanny, Kilanny, St. Enda's school, church, or road near your home place, there is likely a tradition of his having founded a church or monastery somewhere near you.