by Hilary Kiely
Mainie Jellet (Mary Harriett) was born on the 29th of April, 1897 in Dublin (d. 16 February 1944) She would be at the forefront of Modern Art, the first ever artist to have a Cubist painting exhibited in Ireland in 1923.
Today she is recognised as having brought modernism to Ireland. Her Decoration, however, was not particularly warmly received at the time, called "artistic malaria" by George (Æ) Russell and "a freak picture" by the Irish Times, comparing her painting to a weirdly malformed onion.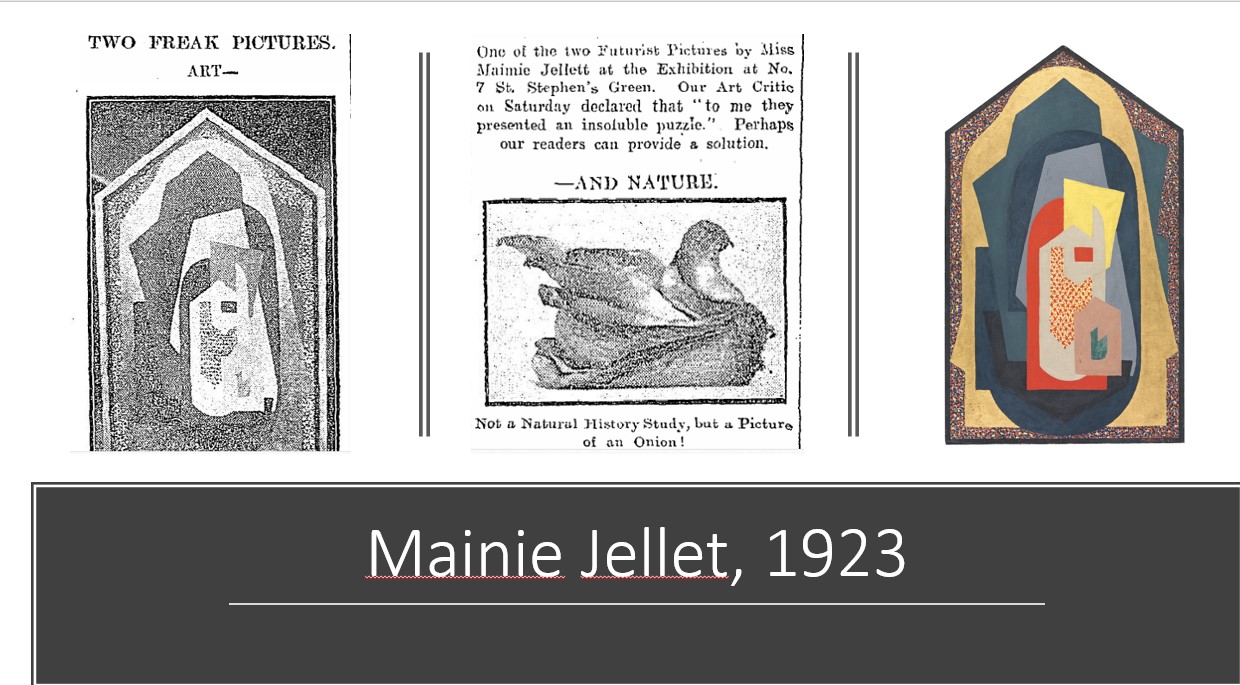 Advent of Modern Art
Although a herald of new forms, Mainie Jellett incorporated the visual language of Ireland's ancient artistic traditions. The prevailing view is that modernism came to Irish Art from the Continent and was essentially separate from Ireland culturally. This idea is bolstered by the fact that many artists in the first half of the century travelled to London and Paris to study, many not returning and some travelling further on to set up in places like New York. Modernism was not only an import by any means. Many of the influential artists of Mainie Jellet's time, including Evie Hone and Harry Clarke created works that bear in some fashion the imprint of the same Celtic and early Irish Christian art that had been so pervasive during the Celtic Revival and within the Arts and Crafts movement.
Celtic Art
Outside of creating art, Jellett was quite prolific in delivering speeches and participating in debate regarding modern art, engaging in radio broadcasts and lectures from the mid-1920s to early 1940s. Jellett frankly equated modernist art with the "proto-abstract" of Celtic art, hoping to make a conservative public more open to modernism.  She professed both art forms to be concerned with the "sense of filling and decorating a given space rhythmically and harmoniously".(1)
Jellett also believed that in fact "(a) cubist artist is nearer the early Christian artist in ideals of artistic impression than to today's academic artist."(2)  In a debate with Dermod O'Brien, the President of the Royal Hibernian Academy on the Academic Tradition and the Modern Movement in Paining, Jellett said "Tradition is the expression of fundamental truth in art, but… interpreted afresh according to the spirit of the age."(3)
Irish Tradition
She believed that "complacent coloured photographs of cottages and Irish scenery did not constitute a national art." A true modern Irish art movement could only be produced only "by delving deeper into the inner consciousness of our country and its natural rhythm of life." She interpreted the principles of the Celtic past in a more abstract way. (4)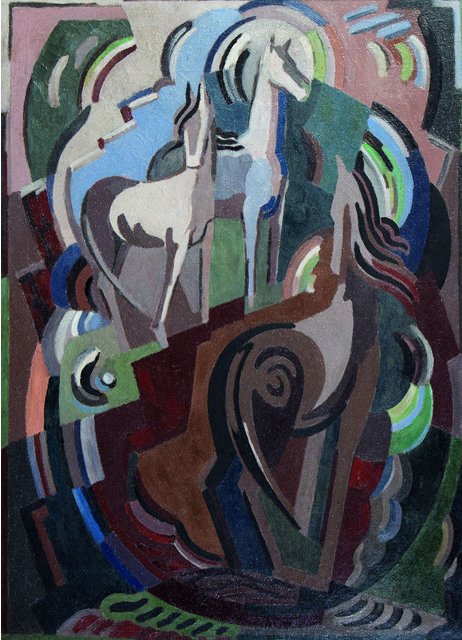 Her championing of modern art, while not necessarily bringing her work into the heart of the average Irish home, did make her good candidate for projecting an image to the outside world that Ireland was sophisticated. The Irish Free State struggled with a tension between its internal conservatism and wishing the wider world to recognise it as a modern society. Jellett, although a woman and a Protestant, was approached to represent Ireland in New York at the World's Fair in 1939.
Visually, we can see the impact of the forms of Celtic art evident in Jellett's pieces; for example, in Green Abstract, 1927, when observed next to a detail from the Luke Incipit folio of the Lindisfarne Gospels, the form of the bird's head and the sweep of the lines are clearly echoed by the abstract forms of Jellett's painting.  In her 1928 Religious Composition, the impression is very much of a softly blurred image of a carpet page, such as Christ Enthroned from the Books of Kells, where the dots suggest the negative space in the characteristic knotwork forms, and the proportions, colour scheme and composition firmly invoke the style of the insular manuscript.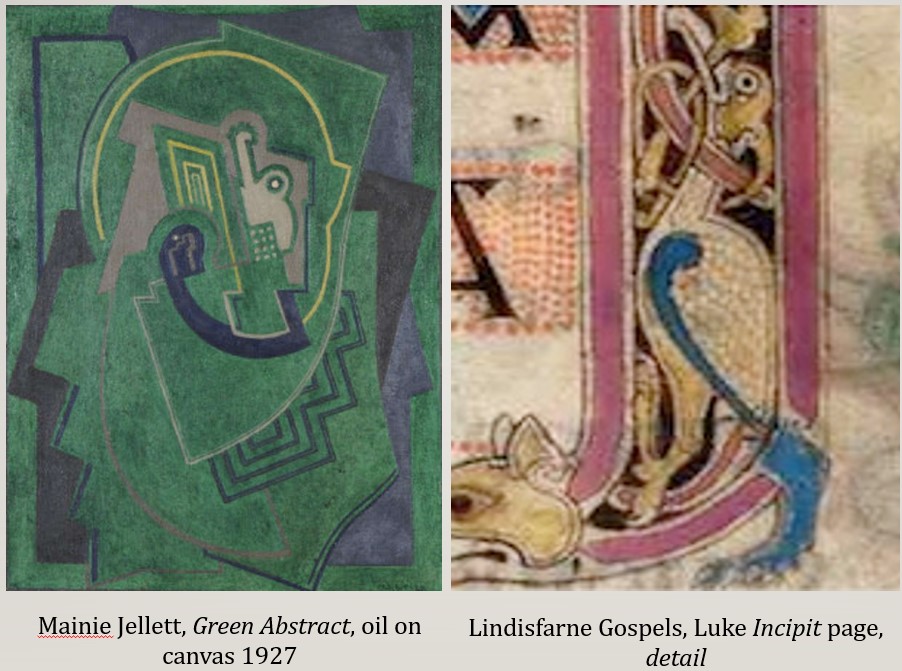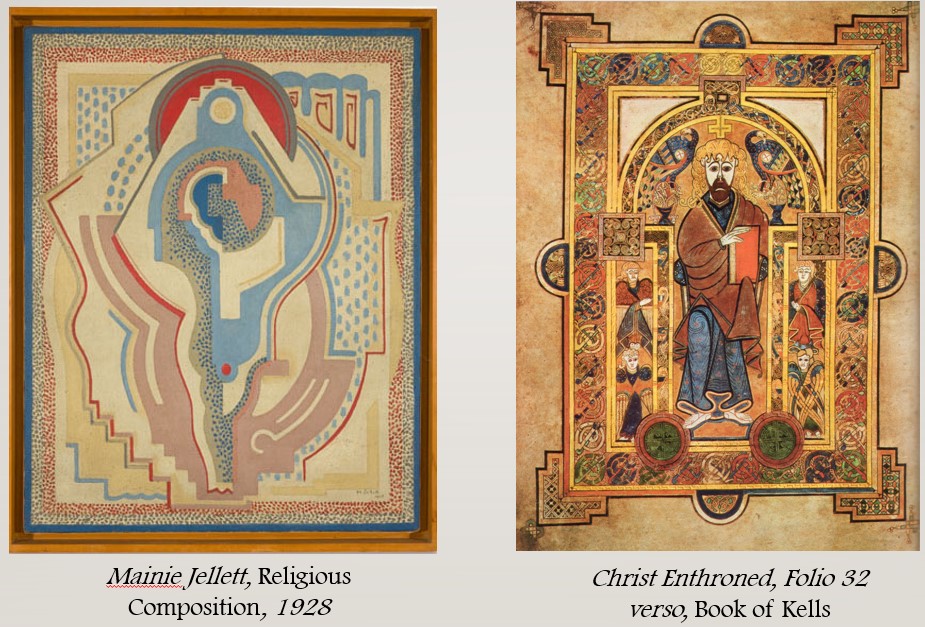 Ultimately, the 1930s found Jellett's style a hybrid of cubism, Celtic design, and religious art, creating paintings that were "both recognisably Irish and modern…. and by the time of her premature death in 1944, Jellett was recognised as both the grande dame of Irish modernism and an artist who successfully translated a foreign abstract aesthetic into a visual language comprehensible to her Irish audiences." (5)
Exhibition of Living Art
In 1943, she founded the Exhibition of Living Art, along with artists such as her long-time friend Evie Hone, Margaret Clarke (artist in her own right and widow of Harry Clarke), and Louis le Brocquy whose illustrations famously decorate poet Thomas Kinsella's translation of the Táin Bó Cúailgne). It was to be annual show aimed at moving the Irish visual arts scene away from traditionalists" and showcase new art styles.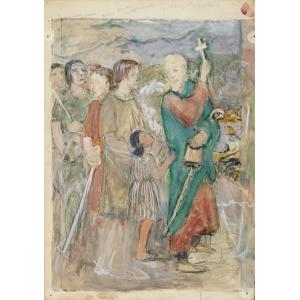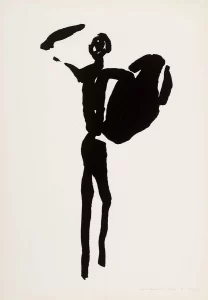 Sadly, not long after this she succumbed to pancreatic cancer. A champion of art, of women, and of Ireland, she certainly left a significant legacy behind her.
Kennedy, Roisin. "Storm in a Teacup: Irish Modernist Art" In: Paige Reynolds (ed). Modernist Afterlives in Irish Literature and Culture. London New York: Anthem Press., 2016, pp.111-124​
Kennedy, Bruce. "Review of Mainie Jellett and the Modernist Movement by Bruce Arnold", in Studies: An Irish Quarterly Review, Vol. 8, No. 323, p 329
ibid.
Bhreathnach-Lynch , Sighle, "Twelve Irish Artists: A School of Irish Painting", New Hibernia Review, Summer 2002 Vol 6, No 2 pp 130-134
O'Toole, F. "Modern Ireland in 100 Artworks: 1923 Decoration by Mainie Jellett" in The Irish Times, 3 January 2015