by Hilary Kiely
The first of February marks the beginning of Spring. It is known as Imbolc and is what's called a cross-quarter day, falling as it does directly between the winter solstice and the vernal (spring) equinox. It is also the Feast Day of St Brigid.
Brigid, patron saint of blacksmiths, mothers, and fire, is second only to St Patrick in the hierarchy of saints on the island of Ireland. In fact, 2023 will see the first time that her feast is celebrated as a national holiday, putting her on an even par with Patrick in that sense.
Remarkably, her cultural significance is perhaps even deeper and more ancient, since some of the stories and patronages associated with the saint may come from older stories of a pre-Christian goddess, also Brigid. Bridget, Bride, or Brigit was the daughter of the Dagda, chief god of the Tuatha Dé Dannan. She was a goddess of fire and fertility. The saint is patroness of marriage, the hearth, smiths and poetry, among other things. That they are the goddess or patron saint of the same things is telling.
Rushes woven into a Saint Brigid's Cross
One tradition kept in Ireland to this day is the making of Brigid's Crosses on her feast day. These are woven from rushes, a type of long grass. Some say that this cross was first made by the saint when she was making collections for the poor. Brigit called to a house where she was offered hospitality. Instead of wishing to give to her collection, the intention of the householders was to steal from Brigit her collected valuables or her own gold cross, depending on the telling. The woman of the house offered her a drink. Brigit bent to pick up a handful of the rushes that were spread over the floor to keep the dust down. She shaped the rushes into a cross and put an arm of it into the drink. Whatever poison had been put into the cup was drawn out by the rushes and so Brigit drank but was unharmed.   The woman collapsed in fright and decided to give to Brigit rather than steal from her.
Across the island of Ireland there are many townlands and parishes who claim her as their patron saint. These include places such as Ballinderry in Roscommon, Athlone in County Westmeath, Loughil in County Longford, and Derrindaff in County Kerry. In Killinagh in County Cavan, there is a bullaun stone known as St Brigit's Stone which is used as both a cursing stone and a blessing stone. In Knockrow County Carlow is a stone where it is believed Brigit ate, one of many places with stones said to be marked by her hands, feet, head, or the hooves of her donkey.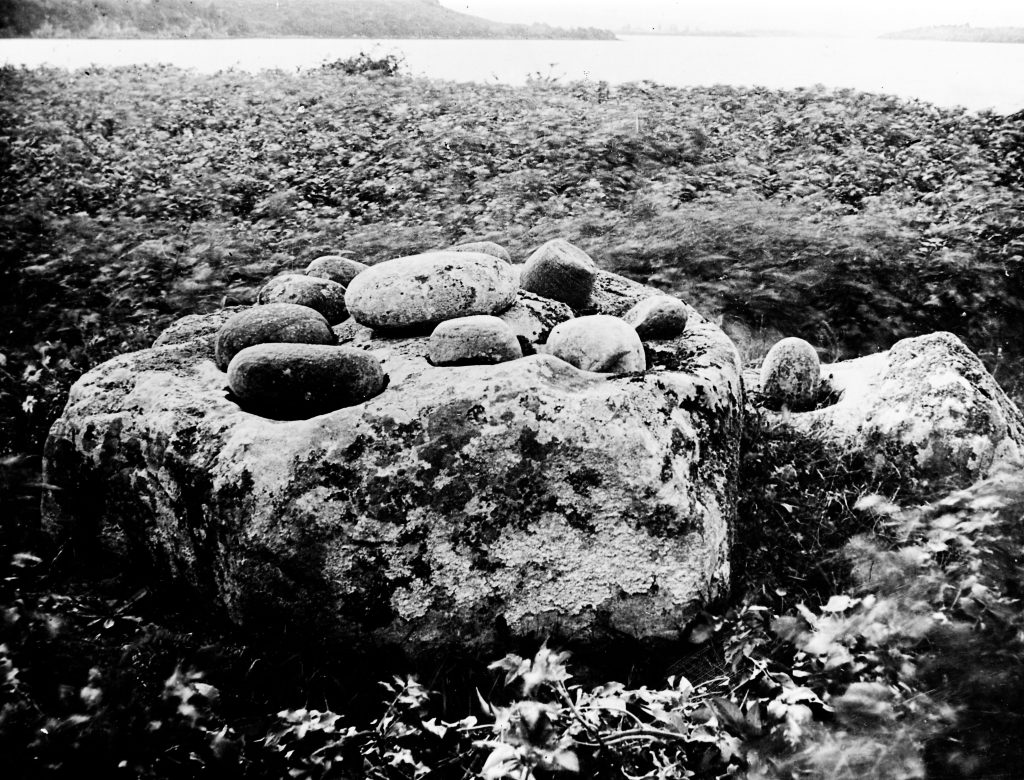 There are hundreds of holy wells dedicated to her., many of which are thought to have curative properties. Her well in Ardaugh, County Longford is believed to cure warts. The St. Brigid's well in Gortallaghan County Cavan is said to cure back pain. In Ennisytmon in Co Clare there is a well where it's believed there's an eel living in it, and should you catch sight of it, you will be cured of your whatever your ailments are. Her wells in Clara and in Castletown, County Offaly are thought to hold the cure for toothache and in the Straduff Brigid's well, you can find the cure for swellings. If it is sore eyes you have, take yourself to St. Brigid's well in Killmallock, Co Limerick.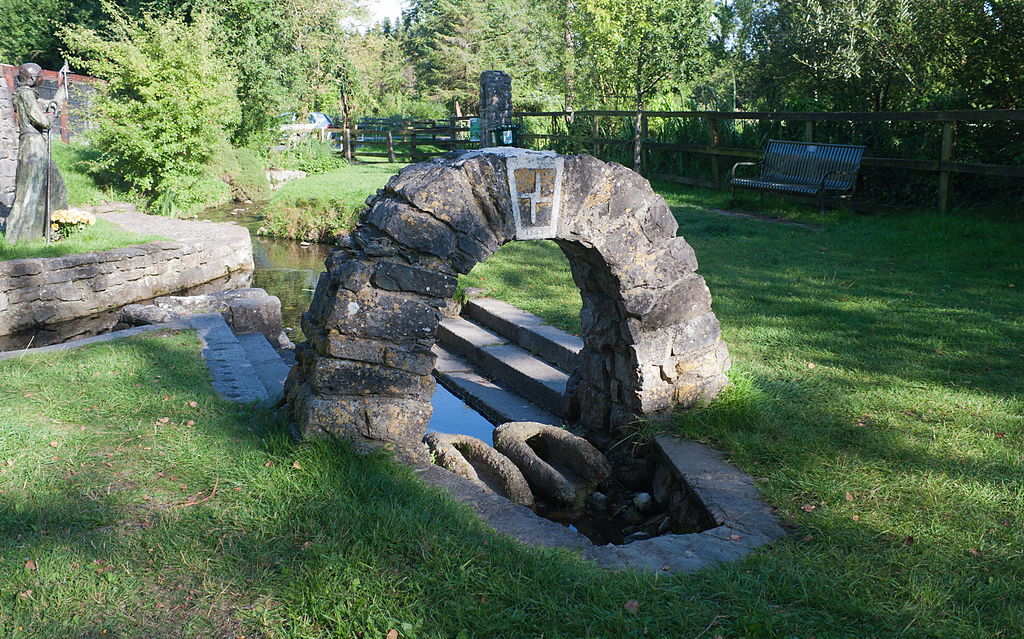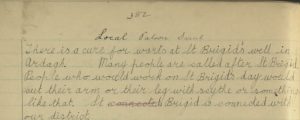 One schoolgirl from Camagh in Letirim recounted a number of traditions around the holy well there:
This well is known as St. Brigid's Well. On St. Brigid's Day all the people in the adjoining districts visit the well. They say three Rosaries and then go around a tree saying the Apostles' Creed three times. When they have this done they say three Aves before St. Brigid's Head (a stone which has the imprint of St. Brigid's Head on it) so that they may get their petition. When they have this done they go around the well three times, drinking some water out of the well each time. Some people tie a piece of ribbon on a bush which is growing beside the well. They think St. Brigid will always help them while this ribbon is there. There is a box left at St. Brigid's Head for any person that wants to give money.

We are told that when St. Brigid visited Connaught she came to Oughteragh grave-yard. She built a little church here. She always drank out of this little well. She always laid her head on that stone for a pillow. The stone is in the grave-yard yet. She always told people never to let cows drink out of the well. When she went away a cow drank out of it. The well disappeared out of the grave-yard and can be seen in Mr. Logan's field now.
The Schools' Collection, Volume 0226, Page 020
Another of the best-known stories of Brigid is around the founding of her convent in Kildare.  The land she wanted belonged to the King of Leinster, himself not yet a Christian. He refused but she asked would he not at least give her the land her cloak would cover. He laughed and agreed. She asked three of her nuns to each take a corner of her cloak and she held the fourth. They walked away to the different points of the compass. And kept walking. The cloak spread to cover many acres and the king had to beg Brigid to call her sisters back. In the end, they agreed on a fair area to become her enclosure, in what is today the Curragh of Kildare.
It will likely never be known exactly how to separate the strands of the story of Brigit but there is no question that, whether saint or goddess, her cloak may as well have covered the entire island of Ireland. If your family tree has roots in Ireland, chances are it grew somewhere that has a Brigid tradition of its own.